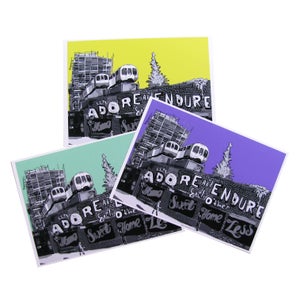 Adore and Endure v2
- Tomartacus
A4 digital print, black & white w/ block colour.
Village Underground Shoreditch, a new print release for
East London Prints + Pints exhibition at Lik+neon July 2016.
Hand drawn computer illustration by Tom Jones Berney. Iconic East London views brought to life in vibrant colour with a signature 'drunken' line style.
Please email info@likneon.com on purchase to specify your preferred colourway, choose: green / neon yellow / purple
If ordering more than one print please email info@likneon before purchase for a combined shipping cost.
Please Allow 7-10 days + delivery time for A1.
Dimensions: 210mm x 297mm Sent in a sturdy cardboard tube.