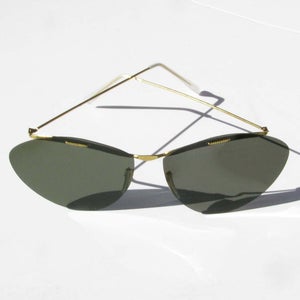 - On Sale
'Rhodoglass' 1950s Vintage Sunglasses
**SALE!* NOW £25 (were £35) From the L + N rare vintage vaults! 1950's 'Rhodoglass' lightweight sunglasses. Made in Italy. New, unworn with original packaging.
Very simple design, the lense attaches to the frame by one point only. Due to their age and having been in storage for a long time, the condition of packaging will vary & there are some slight marks on some lenses, which will need cleaning. Wire arms may need slight adjustment to fit. These glasses may look delicate but they are made to last!
Dimensions: face width 14.2 cm, lense width 6.4 cm, lense height 4.2 cm, arm length 13 cm.
UV protection level not known.