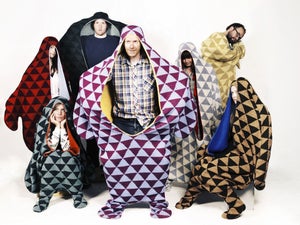 £

315.00
Seal Pelt
by Vík Prjónsdóttir
**BACK IN STOCK**Climb inside and snuggle up! knitted cocoon cocoon to wear over your clothes. Made from fully sustainable 100% Icelandic sheep wool - lightweight, water repellent & one of the warmest wools in the world!
Vík Prjónsdóttir is a collaboration between five Icelandic designers and the knitting factory, Víkurprjón. Playful designs & graphic style are translated into beautifully crafted garments and accessories.
We will send UK signed for & international signed for service, if you require guaranteed or any other service, please let us know on purchase send us an email to websales@likneon.com
One size fits all.
Image © Vík Prjónsdóttir. Photo by Gulli Már.