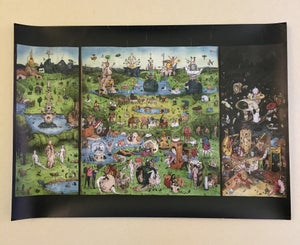 £

30.00
A triptych print by Daniel Jamie Williams after the classic The Garden of Earthly Delights by Hieronymus Bosch.
Chock full of intricate bizarre scenes, rituals animals humans and hybrids based on the original format with clogs full of DJW imagination and added cultural reference.
The print you can come back to over and again and see something new each time
Printed on heavyweight paper so there is some slight crazing to the surface edges due to rolling.
Limited edition just 2 available
Like it framed? Please email us on info@likneon.com so we can make special listing without postage. Please note: allow 7-10 days collection only from our London e1 store. Faster turnaround is possible though a small fee may be added.
black painted wood box frame with clear acrylic cover total cost with frame £60